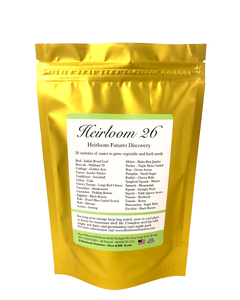 Heirloom seed bank with 26 easier to grow strains of vegetable and herb seeds. Over 8,000 seeds total.

100% Heirloom seeds, 100% USA Origins, 100% Non-GMO, Seed to Seed ready 100% Non-Hybrid seeds so each plant can provide more viable seeds for later use.

Seed list with germination rates and test dates are included to help plan for a successful garden with a tailored assortment of premium seed stock.

Recloseable seed packs in a sealed, moisture proof, Mylar pouch with desiccant. Ideal for long-term storage, or planting this season.

Limited batches are in stock now.

Type (Strain) - Seed Count
Basil (Italian Broad Leaf)-600
Broccoli (Waltham 29)-300
Cabbage (Golden Acre)-300
Carrot (Scarlet Nantes)-800
Cauliflower (Snowball)-300
Celery (Utah)-1500
Cilantro (Slow Bolt) -85
Cucumber (Marketmore)-100
Cucumber (Pickling Boston)-75
Eggplant (Black Beauty)-300
Kale (Dwarf Blue Curled Scotch)-350 
Kale (Siberian)-350
Lettuce (Iceberg)- 1500
Melon (Hales Best Jumbo)-50
Parsley (Triple Moss Curled)-450
Peas (Green Arrow)-30
Pumpkin (Small Sugar)-25
Radish (Cherry Belle)-120
Spaghetti Squash (Winter)-25
Spinach (Bloomsdale)-50 
Squash (Straight Neck)-25
Squash (Table Queen Acorn)-30
Tomato (Beefsteak)-200
Tomato (Roma)-200
Watermelon (Sugar Baby)-50
Zucchini (Black Beauty)-25

Start planning your garden with the highest quality, viable, 100% NON-GMO heirloom seeds packaged in a useful quantity and variety. This seed collection is sourced and produced entirely within the USA. Heirloom 26 Discovery seed collection offers 26 different types of heirloom Non-GMO seeds individually packed in releasable bags packaged in a reclosable mylar pouch with desiccant making it ideal for long term storage. Includes Seed list with germination rates, test dates, seed counts, and origin; specific seed planting instructions are not included.