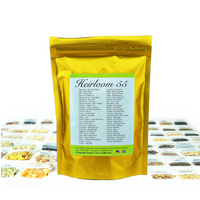 Vegetable Seed Variety Packs
Ideal for long-term storage or planting this season. 
100% Heirloom seeds, 100% USA Origins, 100% Non-GMO, Seed to Seed ready 100% Non-Hybrid seeds so each plant can provide more viable seeds for later use.
Shop
Personal Seed Banks
Seed banks designed for long term storage with 100% USA origin, freshly tested, Non-GMO, heirloom seed types that produce viable seeds for ongoing use, collection and storage.
Each bank contains a variety of individually labeled and sealed heirloom seeds stocked in re-closable glass canisters for long term storage. 
Shop
Heirloom Futures

Invest in the Future with Heirloom Futures Seeds
Heirloom Futures
Invest in the Future with Heirloom Futures Seeds